Extractor – Maxant Model 1400P Radial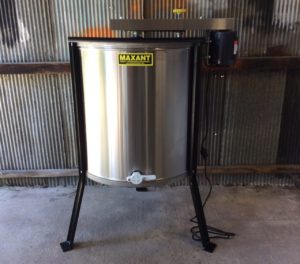 If you're looking for a cheap extractor, this wouldn't be it. But if you want a machine that's built tough and something you can be proud of . . .
Maxant equipment is built to last a lifetime, as they say, perhaps two.
This machine will extract 10 full-depth, or 20 ideal or WSP frames. With radial extractors the frames are arranged like spokes on a wheel, there is no need to manually turn the frames around.
It's built with grey heavy gauge stainless steel, stainless steel covers, strong 1/3 HP motor, and manually adjusted speed control. There's really nothing that can go wrong with it.
Shipping weight 60kg, dimensions 80 x 80 x 100 cm.