Bee suit – professional
For complete protection the Bindaree bee suit has:
strong removable nylon mesh veil
choice of two hoods
strong cotton fabric
front and rear pockets
velcro openings to inside pockets
elastic cuffs on sleeves and legs
large range of sizes
made in New Zealand
These are the suits used by many professional beekeepers. Attached hood can be unzipped and flipped back or removed entirely. Elastic is added to the arms and legs. Please specify the type of hood you would like: single panel (shown in Description) or collapsable with side panels that fold out from face (left). We will send them with the collapsable hood unless specified that you would like the single panel hood.
Sizes are numbered from 4 to 15 corresponding to height above five feet. Size chart below assumes a moderately overweight or muscular individual. If thin, size can be reduced one or two sizes from what is shown on chart. If heavy, add one or two sizes to what is shown. Click on Description for the size chart, and if still not sure, you can ring for advice.
One or two suits can be delivered anywhere in Australia for $20.
Add to Wishlist
Additional information
| | |
| --- | --- |
| Weight | 1.5 kg |
| Size | 4, 5, 6, 7, 8, 9, 10, 11, 12, 13, 14, 15 |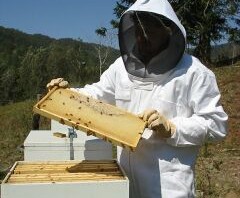 OVERALL / SUIT SIZE CHART
Item code

Standard Overall Size

Height
to fit (cms)

Chest
to fit (cms)

Waist
to fit (cms)

Seat
to fit body(cms)

2104
4 (82R)
163 (5'4″)
92 (36″)
82
97
2105
5 (87R)
165 (5′ 5″)
97 (38″)
87
102
2106
6 (92R)
168 (5'6″)
102 (40″)
92
107
2107
7 (97R)
170 (5′ 7″)
107 (42″)
97
112
2108
8 (102R)
173 (5'8″)
112 (44″)
102
117
2109
9 (107R)
175 (5'9″)
117 (46″)
107
122
2110
10 (112R)
178 (5'10")
122 (48″)
112
127
2111
11 (117R)
180 (5'11")
127 (50″)
117
132
2112
12 (122R)
183 (6′)
132 (52″)
122
137
2113
13 (127R)
185 (6'1″)
137 (54″)
127
142
2114
14 (132R)
188 (6'2″)
142 (56″)
132
147
2115
15 (137R)
191 (6'3″)
147 (58″)
137
152
Related Products
Three sizes for kids aged 3 to 11:

XXXS for kids aged 3, 4, 5
XXS for kids aged 6,7,8
XS for kids aged 9,10,11

$

110.00