The Natural Hive
This course is organised as part of National Science Week, 12-20 August 2017.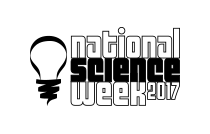 Add to Wishlist
This course is organised for Science Week, 12-20 August 2017. There are four courses listed, 12, 17, 18, and 19 August.
Additional information
| | |
| --- | --- |
| Date | 12 Aug, 1 pm, 17 Aug, 11 am, 18 Aug, 11 am, 19 Aug, 1 pm |
The social structure of honeybees is an inspiration to ourselves. How do thousands of bees, working in the dark, organise themselves to build the perfect honeycomb structure, and then to go out and collect the honey and pollen to fill it?  How do they accomplish such amazing feats? The honeycomb consists of a large number of hexagonal cells, expertly constructed from beeswax and propolis. The spacing, curve and shape of the combs is also precisely defined. In this course, we will explain what is known about the complex social behaviour of bees that has evolved over millions of years. We'll look at the underlying division of labour, and observe through the viewing windows of an indoor cathedral hive, the hive itself, in its various stages of construction.
Related Products
Out of Stock

Honey is pure raw energy, produced from hundreds of thousands of flowers and tens of thousands of bees.

In this course, we'll suit up, collect honey frames and bring them into the shed for extraction. We'll go through uncapping, spinning, and filtering of the honey and explain the steps involved in rendering beeswax to produce exquisite hand made candles. We'll demonstrate how to do a health inspection and prepare your hives for winter. Finish with a tasting of honey and mead.

The course is ideal for anyone just starting in beekeeping or wanting to gain more experience and confidence looking after these fascinating creatures. Suitable for adults and older age children. Covers Langstroth, Warre, Top Bar and Flow Hives. It's not necessary to have previously taken the Art & Science of Beekeeping Course.

Starts at 9:00 and finishes at 3:00. Morning tea and lunch are included. We'll do the beekeeping in the morning when it's cooler.

$

190.00